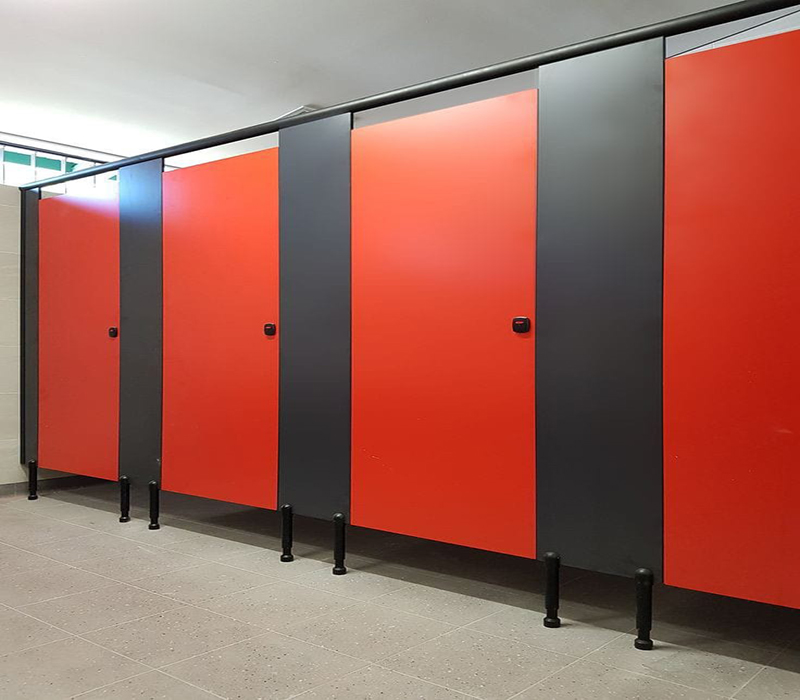 CS Routing-SS
PRODUCT DESCRIPTION
CS Routing-SS Manufacturers in Hyderabad, Telangana, India HPL compact board are manufactured from sheets of special kraft and decor papers, impregnated with thermo setting synthetic resins, fused together under heat and high pressure. HPL compact board has laminates on both sides with either matt finish or textured finish. CS Routing-SS Supplier HPL compact boards arer available in a variety of brilliant colours, woodgrains and tacile patterns. For surface finishes, you have the choices of matt or glossy. New 'MicroDot' tacile finish is available upon request.
Stainless Steel Top Rail in SS finish
Alloy Privacy Indicator
Clear Floor Concept
Alloy Privacy Thumb Turn
Hardware Fixing Details
The adjustable foot that supports the pilasters is made from stainless steel (Grade 304) and its base is anchored to the floor with nylon plug, fixed into ground with stainless steel screws. There is a ground clearance of 150 mm. Stainless Steel 304 U-channels are used to attach with the divider panels to the wall as well as the mid panel with stainless steel (Grade 304) screw inserts. Stainless Steel top rail coated in stainless steel colour is used to fix the pilasters at the top. Doors are incorporated with the noise deafening tape to reduce the noise effect. All other fittings like hinges, coat hook, adjustable foot and lock set/latch indicator is manufactured in stainless steel.