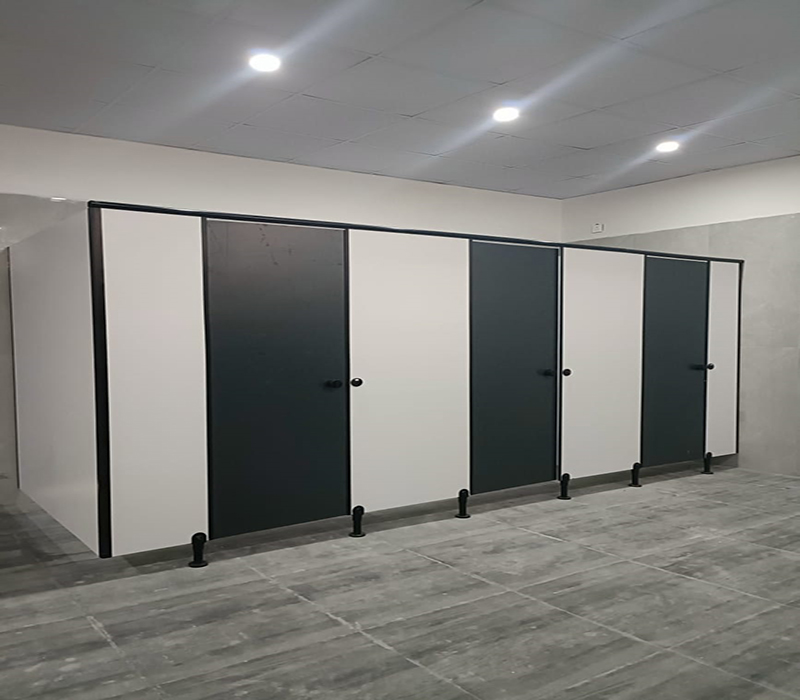 CS Nylon Polish
PRODUCT DESCRIPTION
Presenting serenity and simplicity at its finest, the CS Nylon Polish Manufacturers in Hyderabad, Telangana, India series is the typical model for restroom cubicles which provide easy construction and high durability. The CS Nylon Polish Exporter cubicle model is aesthetically designed with the extruded anodised aluminum top rail and polyamide hardwares, for giving a clean and a lean look to the restroom setup. its intermediate panel comprises of one undivided piece and has no joints in between. all pilasters as well as doors are 12 mm or 18mm thick with chamfered edges. Thus, for those who like minimalistic designs, CS Nylon Polish is the answer.
Nylon Coated Adjustable Foot
Door Knob & Privacy Indicator
Anodized Stainless Steel Door Stopper Channel
Hardware Fixing Details
The adjustable foot that supports the pilasters is made from corrosion resistant (Polyamide 6) and its base is anchored to the floor with nylon plug inserted into ground with nylon plug inserted into ground with stainless steel screws. There is ground clearance of 150 mm. Nylon U-channels are used to attach the divider panel with stainless steel (Grade 304) screw inserts to the wall as well as the mid panel. Nylon top rail is used to fix the pilasters at the top. Door stopper channel provides the nonrebating doors and connecting panels with extra ordinary look. Further the doors are incorporated with the noise deafening tape to reduced the noise effect.